I think many can agree that default Magento promotions are pretty boring and outdated, and what's worse is…you can't create new ones! They are very standard and don't offer much in the way of creativity, which really cancels out the look and feel of a unique website. Extendware has the solution with Shopping Cart Price Rules, allowing you to offer 24 completely new discount actions. This way you can keep your customers engaged during the most important part of the transaction…the sale!
Here are some of the great promotions you can add with this software. We shall use a clothing store as an example.
"Buy one product and get another product with X discount"
"Buy two shirts and receive the 3rd for 50% off"
"Buy 5 products for the normal price and get 20% off each additional product
"Get $15 off for every $150 spent"
"Buy 2 pairs of pants and get the 3rd for $10"
"Buy a shirt and pants for $75 total"
"All hats for $5.99"
Discounting merchandise this way can be extremely effective. Consumers love a deal and with the options and templates provided here, you can change your promotions as often as you want and see what works and what doesn't.  You can specify exact products or be more general and specify the categories. (i.e. Black Nike Sneakers vs. Tennis Shoes)
More Easily Manage Your Promotions
Shopping Cart Price Rules can be deleted or inactivated in bulk, have it's priority changed, or have it's date start / expiration changed. This can all be done by the enhanced shopping cart price rules grid that is included.
Create "Buy One Product and Get Another Product with X Discount".
Easily create discounts such as "Buy 2 pants and get a tie for 20% off" or "Buy 3 pants and get a tie for $15.00" etc. You can create a variety of discounts that are conditioned on purchasing another product. You can discount by either percent or fixed discount or make it a fixed price.
Create Promotions Like "Buy 2 Shirts and Receive the 3rd for 50% Off"
Creating promotions in a series (every 2nd, every 3rd, etc) which allows promotions such as "buy 3 products and the 3rd receive 20% discount". You can select whole categories or select individual products to determine which are eligible. You can also discount by a percentage, a fixed amount, or set the discounted product to a certain price.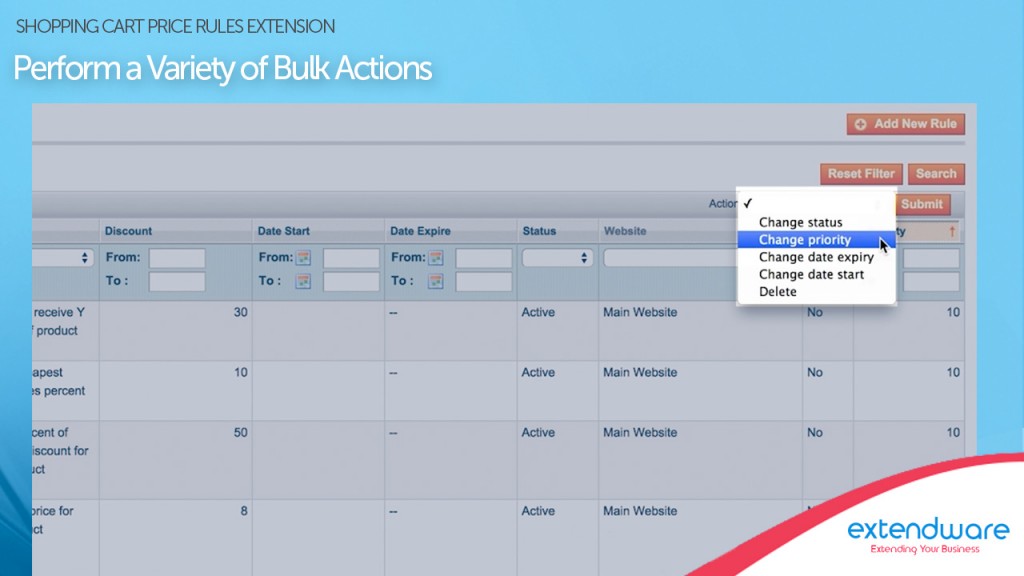 Don't Apply Promotions to Products with a Special Price
Products with a special price are usually already deeply discounted, so discounting them further would mean the product would be sold for a loss. Easily ensure that products with a special price do not receive any further discounts.
Create Discounts for the Cheapest / Most Expensive Product in the Cart
It is very popular to create general discounts based on most / least expensive product in the cart. For example, buy any 3 shoes and the cheapest (or most expensive) shoe will receive a 10% discount. You can use any combination you want to create powerful and motivating discounts based on cheapest / most expensive products.
Create Promotions like "Buy 5 Products at Normal Price and Get 20% / $20 Off Each Additional Product"
Encourage large orders by giving a discount after a certain quantity has been purchased using our After-N discount actions. For example, "all shirts purchased after 5 cost $20.00 / receive 10% off / etc" or even "buy 3 belts and every belt after will cost $10.00". As you can imagine, this is a powerful way to increase sales.
Create Fixed Price Promotions Like "Buy Two Pants and the 3rd Costs $10.00 (or is Free)"
Fixed price discounts are especially powerful. Using our Each-Nth discounts (each 2nd product, 3rd product, etc) it is very easy to create common promotions such as buy 1 shirt and get the 2nd for $10.00. Or even something like buy 5 ties and receive the 6th for free.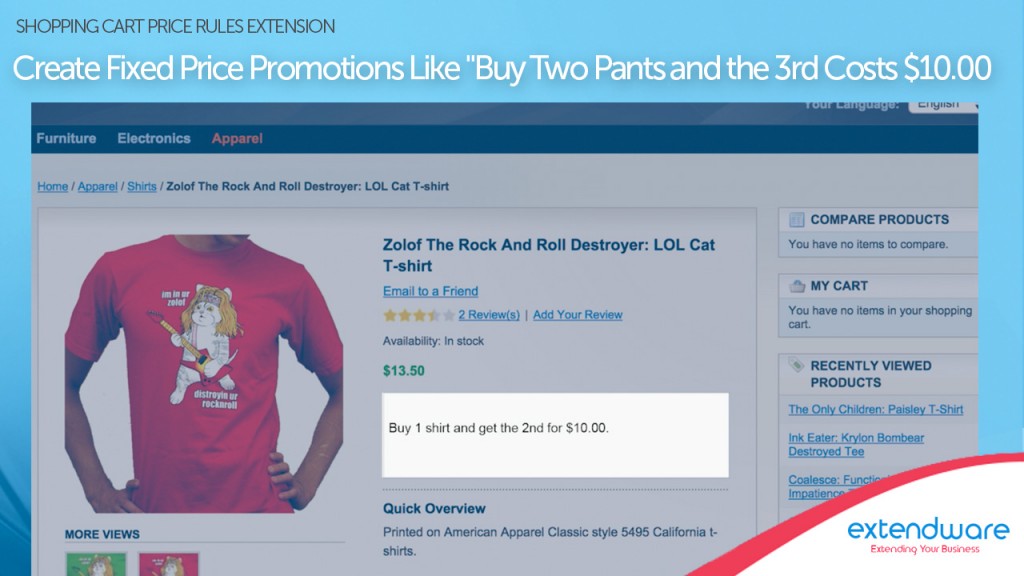 Give Discounts Based on Money Spent Such as Get $10.00 Off for Every $100.00 Spent
Encourage large orders by giving a discount after a certain quantity has been purchased. For example, "buy any 5 shirts at full price and each additional shirt will receive a 20% discount" or even "buy 3 pants and every pants after that will cost $30.00". As you can imagine, this is a powerful way to increase sales.
Create a Fixed Price Promotion for a Set of Products Like "Buy a Keyboard and a Mouse for $100.00"
A great way to generate sales is to offer a fixed price for a certain set of products. You can easily do this with our Set Discount Accounts. You can specify the exact products or you can specify the categories.
Create Fixed Discounts for a Group Such as "Buy Any 5 Shirts for $100.00"
Discounts can also be applied to a group of products. You can specify the products that are valid for the group by category or individually.
Offer Fixed Discount Amount for Each 2nd / 3rd / etc Product Such as "Buy 3 Shirts and Get $20.00 of the 3rd Shirt"
In addition to using our Each-Nth discount account this will work with our After-Nth discount action so you can create a promotion like "Buy 3 shirts and every shirt purchased after 3 will receive $10.00 off".
Create a Promotion For a Set of Products Such as "Buy the Pants and Shoes Together and Get 20% off Each"
Another way to discount when using our Set discount action is to give a percent off when the full set of products is in the cart. A product set can be two products from two different categories or the specific products can be defined.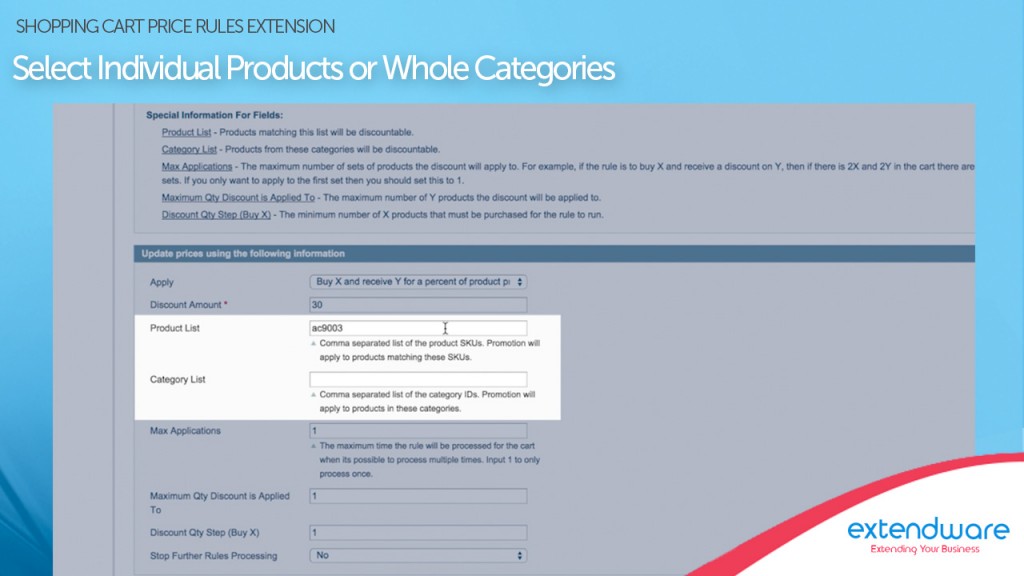 Apply Discounts Only to Products with Specific Custom Options
Discount can be set to only apply to products with a specific custom option or if the custom option value is set to a specific value. For example, if you sell electronics and a warranty is a custom option, then you can have a discount only if the warranty is selected.
Support for Multiple Stores
If you have 1 store or 100 stores within your Magento installation it will work for each store.
Support for Multiple Currency and Tax Rules
Multiple currencies and tax rules are supported for promotions created with Shopping Cart Price Rules.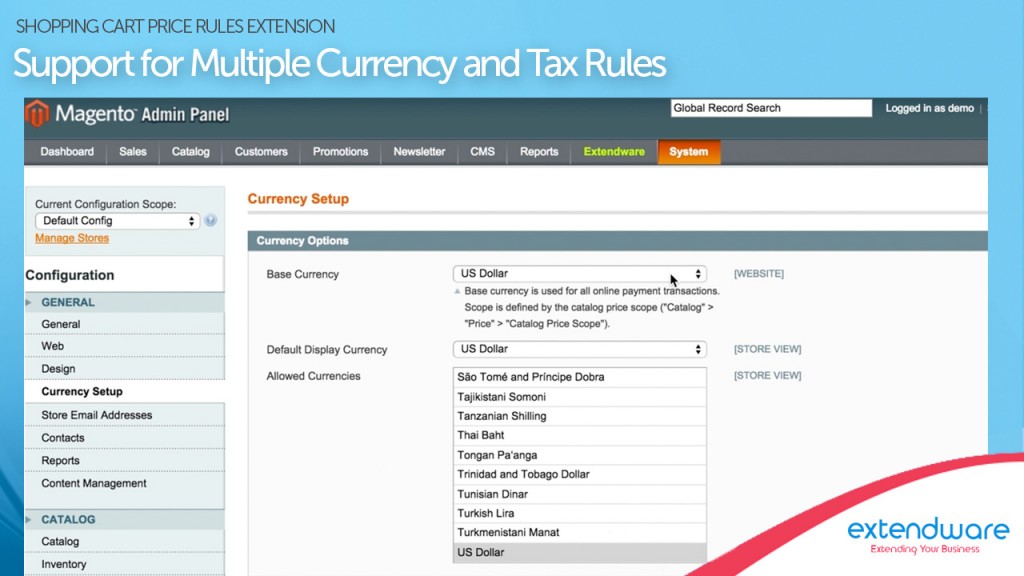 The Shopping Cart Price Rules extension from Extendware also has an enhanced promotions grid to help you organize and manage the promotions you are running or plan to run. Also it will support multiple currencies and tax rules which makes it easy for any region.
If you can believe it, the above list is not a complete list of features. Please try the online demo or install as a free trial and take advantage of our risk-free 30 day refund guarantee to fully see the power and elegance of the Magento Shopping Cart Price Rules extension.