It can seem defeating when customers add products to their carts and then suddenly abandon them without completing the purchase. Perhaps they decided to comparison shop, or maybe they became confused by the check-out process, or they could have become distracted and figured they would push the task off until another time.
Instead of losing customers, bring them back to your store! Extendware's Abandoned Cart Email does just that. You can now send an email to any customer who has abandoned their cart. You can send incentives or coupons or simply remind them what they were shipping for. It couldn't be easier and it will save a lot of lost sales!
There are many great benefits to the Abandoned Cart Email Extension
Increase Store Revenue
Easily increase store revenue in an automated way. Abandoned Cart Emails can pay for itself very quickly!
Recover Lost Sales
Abandoned carts are lost sales. Sending followups and incentivizing purchases with coupons will give you a way to recover these lost sales.
Send an Unlimited Number of Follow-up Emails
Every store is unique. Some stores will only want 1 email while others will want to send 5 or even 10. You may select from 1 to an unlimited number of reminders and each setting is set on a per-store basis.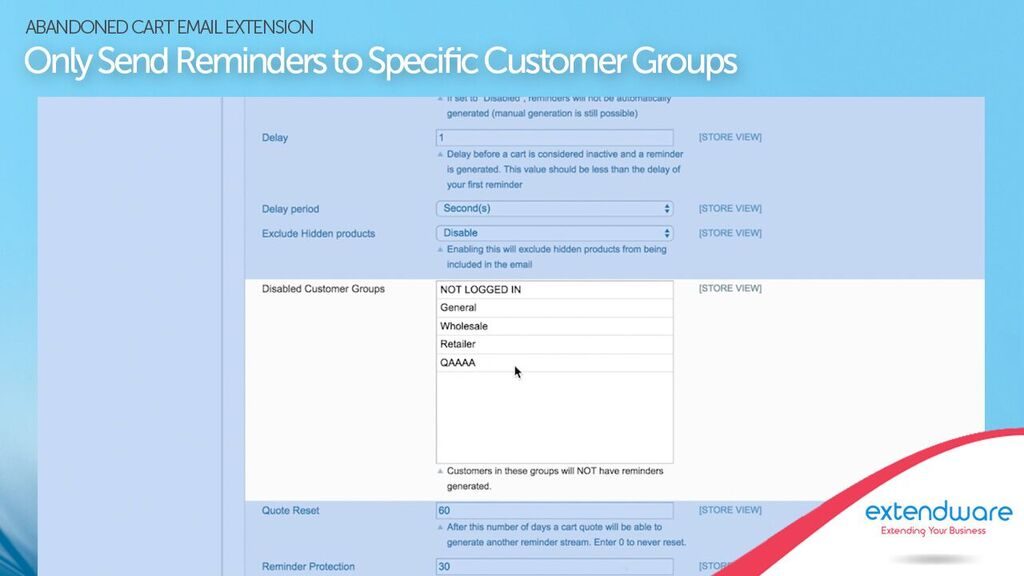 Send Reminder to Registered Members and Guests
Guests reminders can outnumber registered member reminders by 100 times. E-mails of your guests will be captured via Ajax as they fill out the checkout form and they will be sent reminders if they abandon the order.
Easily Track Emails with Google Analytics 
When customers click on the recovery link the URL will include your google tracking parameters.
Supports One-Step-Checkout Extensions 
Out-of-the-box support for numerous one-step-checkout extensions and adding new ones is extremely simple.
Coupons with Expiration can Automatically be Added to Emails
Adding coupons to your emails will motivate your users to complete their sale! Various coupon types are supported and you can customize the priority and discount of the created coupon. You can even set a minimum cart value before the coupon is enabled.
Each Coupon Sent Will Have a Unique Coupon Code So it Cannot be Used More Than Once 
Coupons that are sent to users are completely unique, so they cannot be shared or published on a Web site. Each coupon will only work one time.
Show the List of Products in the Abandoned Cart Email
The abandoned cart reminder email will show the list of products that were added to the cart. The customer can restore the cart by clicking a link.
Coupons Support Advanced Action Rules / Conditions 
Do you want to only add a coupon when the cart value is over $500? Maybe you want to exclude all books from being discounted? You can easily do this and more with Abandoned Cart Emails. We give you complete control of the parameters of the coupon being added to the email.
Enable Customers to Automatically Recover Their Cart (optional)
Customers may click a link in the reminder e-mail which will automatically log them in and add their original cart contents to their session. This makes it even easier for them to place their order.
Easily Track Who Recovered Their Cart and When
All sent reminders are stored in a history log. When customers recover their cart via the e-mail link and use their coupon (if applicable), it will be recorded in the history log.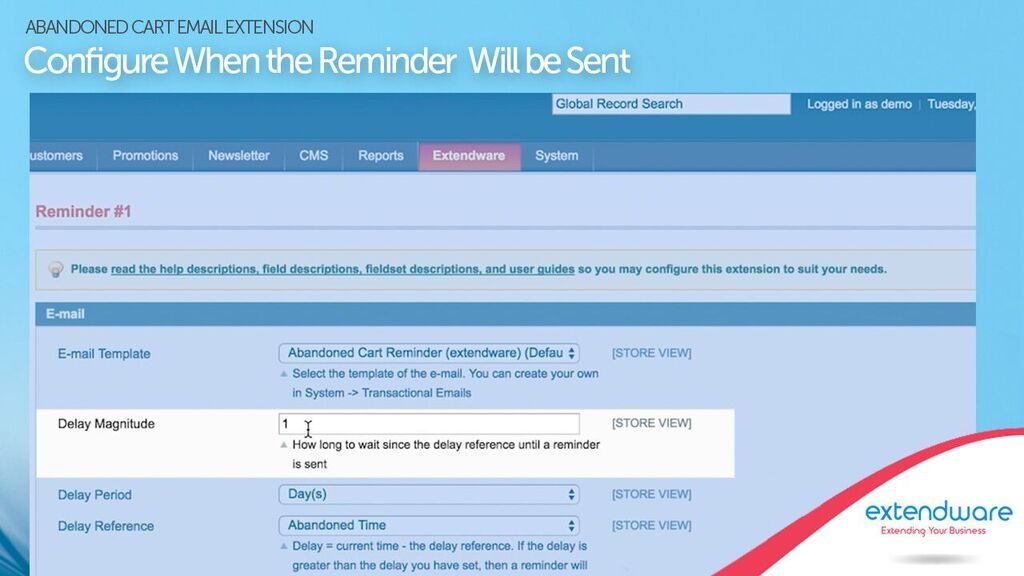 Unsubscribe / E-mail Blacklist Abilities
Ensure you are compliant with local laws by giving customers the ability to unsubscribe from receiving cart reminders.
Change the Reminder Template in Any Way You Want
Every reminder can have its own e-mail template. This template can be modified in System -> Transactional Emails just like any other Magento template. In addition, you have the option to further change any reminder before it is sent to the customer.
Delay Sending if Cart Contents are Out of Stock 
Sending a reminder when the cart contents are all out of stock can be embarrassing for a store. We allow you to delay these reminders and send them when product returns to stock.
Reminders / Alerts Automatically Stop on Purchase or Cart Recovery
It is important that a reminder sequence is stopped once a customer responds. A reminder sequence will stop once a user recovers their cart from the email or places a purchase (this is configurable).
Display Time of Checkout 
For even easier tracking the history grid will now show the time the recipient of the user placed an order.
Capture Telephone Numbers
Sometimes sending an e-mail is not enough. Now telephone numbers are captured (via Ajax) during checkout, so that you may call select customers if you wish.
Only Send Reminders to Specific Customer Groups 
You can disable the sending of reminders to specific customer groups. This ensure your wholesale customers will not receive messages meant for your retail customers.
Send Copy of Reminder to Alternate E-mail Address
In addition to the reminder log you can choose to send copies of reminders to other email addresses so you can keep track of what reminders are being sent.
You Have Complete Control of Reminders and When They are Sent
Turn off auto sending and you may manually send reminders or delete them or even edit the reminder contents prior to sending.
Customizable Delay Period Between Reminders
A reminder sequence is the sequence of reminders that are sent once an abandoned cart occurs. The time periods between each reminder in a sequence can be customized according to your needs.