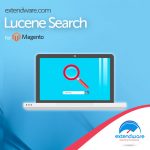 Your Magento store product search allows customers to find the products they want quicker. Customers will leave your store if they cannot find the products they want. Around 43% to 50% of e-commerce customers use site search to find the products . Your store is losing a lot of potential sales if your search is slow or returning poor results.
Magento Lucene is a fast and precise search backend that is compatible with shared hosts. It includes lots of features and comes with a 30 day refund guarantee – we are that confident.
How important is fast site search?
A customer will not be able to order products from your store if they cannot find them. Relevant results matter and Lucene Search will make your results more relevant and faster. According to Gomez, every second delay in site load time results in a 7% reduction in revenue. Forrester research has found that 52% of people consider speed to be important to their site loyalty. It is well-established that faster and more relevant search results will improve a stores revenue.
---
Quick Extension Overview
Extendware's Magento Lucene Search increases revenue and customer satisfaction with faster, more relevant search results. Lucene Search is a powerful and flexible search solution that helps ensure your customers can always find the products they want. Plug and play configuration and compatible with shared hosting environments.
---