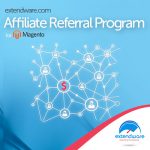 Extendware's Affiliate Program for Magento has been released! Do you want to take your sales to a new level? Then you need to start an affiliate program. No matter how many sales people you hire it will never compare to 100s of motivated, commission-based, individual affiliates that concentrate on selling your products to their existing contact lists. That is the power of an affiliate network.
We offer a complete solution that gives you the tools to manage your own affiliate network. Easily setup affiliate accounts and create banners so they can begin advertising your store. Your affiliates can easily view statistics and create links in their backend, so they can see the results of their campaigns.
Why is an affiliate program better? An affiliate program is better than most other forms of advertising as it is result-based. You only need to pay your affiliates when they produce sales. There is no risk to you as they will not be paid unless they generate revenue for your store. Compare this to google advertising and other forms of advertising where you have to pay whether sales are generated or not!
Have a look at the Magento Affiliate Program Extension to get started!
---
Quick Overview
Easily create an affiliate network, so that your store is promoted around the clock. Our affiliate extension is highly configurable. Easily create multiple campaigns / programs, multiple commission rates, multiple commission tiers, and banners. Start your affiliate network today so your store can grow!
---