What is "Full Page Cache" for Magento?
We all know that patience is a virtue; unfortunately we all know that many customers do not care about waiting around for your store to load, they want it NOW! Even the smallest bug or delay causes decreased conversions and lower sales.
It is funny to think that the average customer will wait 10 minutes in line at a store, but more than 12 seconds waiting on a search online? Forget it! Frustration is at its peak!
If increasing Magento page speed is a concern to you and your business, than optimizing your Magento store with Extendware Full Page Cache can help lower your customer wait time and speed up your store loading times significantly.
This video helps explain Full Page Cache and how the Extendware Full Page Cache extension is different, more capable, and more powerful than the other competitor Full Page Cache extensions available.
Just click below to play.
Benefits of Using Extendware Full Page Cache for Magento Site Optimization
• Very Limited Database Usage – Extendware's FPC uses a super fast primary cache so that it does not have to touch the database for over 90% of all actions.
Why does that matter? Because every time your application or store makes a call to the database, it slows down your page processing because your system has to wait for the database to respond. One call won't make much of a difference, but a few hundred database calls every transaction can really slow down your page response time.
Our Full Page Cache gets around this by handling 90% of your requests in memory, not by calling your database, so it is much faster than how Magento's default caching settings work. This translates into a speed similar to a Varnish caching solution, yet with a better cache hit rate, form key support, and our Full Page Cache is much easier to configure.
• High Page Cache Hit Rate – Your store will not be fast – even with a good page caching extension – if no one actually uses the cache. That is why a high cache hit rate (the percent of requests that load directly from page cache instead of the database) is important. Our cache has an excellent hit rate that far surpasses the current and previous Varnish caching solutions.
• Ability to Flush Multiple Modified Pages – Our extension gives you the ability to flush the entire page cache, flush groups of pages (all product pages, all cms pages), or flush only specific pages of an affected product. Having multiple flushing choices ensures that you don't flush what you don't need to, which increases your cache hit rate.
• Easy to Configure – Most stores only need to install it and enable it and it will auto-configure! It couldn't be easier. Only more advanced use-cases or extreme customization require more involved configuration.
• Supports Product Catalog Sorting – Extendware Full Page Cache has full support for catalog sorting. Other page caches do not support changing the sort order in the catalog the way Magento does by default. As a result, it is possible for the default category sort order to be cached incorrectly when you are using other full page cache solutions. Our solution won't incorrectly cache the default category sort order.
• Highly Configurable – The out-of-the-box solution page cache is extremely easy to configure and is very simple to just plug and play. However, that does not mean it cannot be configured to operate in different ways for many different environments. The FPC extension includes lots of configuration options so it can fit every use case and grow as your store grows!
As you can see, Extendware's Full Page Cache increases the page load speed for your Magento website, reduces the load on the server and database and improves the ranking in search engines.
Take action and save your customers (and your wallet) valuable time. You can make your Magento website the fastest on the market and drastically improve your conversion rate and overall sales!
---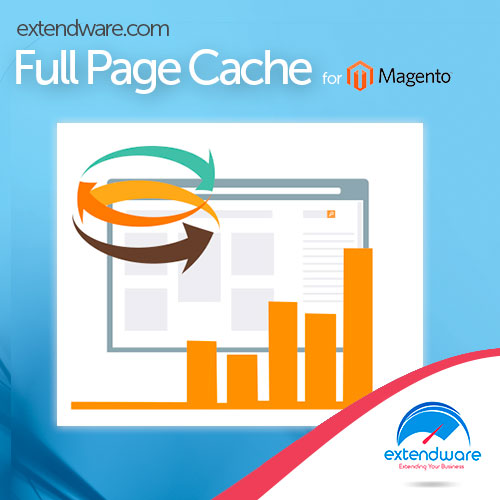 Full Page Cache reduces your Magento store's First Byte Time, Increases your web server request rate, reduces database load, and makes your store much more responsive. Extendware's Caching solution is the best Magento Caching Performance Extension you can buy to speed up your store and easily pays for itself by saving you money rather than buying expensive hardware solutions to increase your Magento store optimization rates.
---