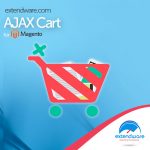 Extendware's Magento Ajax Cart and Magento Quick View have been updated with new features and a bug fix.
Dialog Centering
Both extensions now have the capability to vertically center the popup dialog. The old behavior of the dialog being at the top of the screen may be achieved by setting the "max top" configuration option to 0. May also set this to other values to better position the dialogs from the top according to your needs.
Transition Effects
This configuration option was available in previous versions of Quick View, but it was not being applied properly. Now both extensions fully support enabling / disabling transition effects.