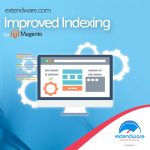 When saving products, categories, and other entities to your Magento store, the Magento platform must update its various indexes, which can cause a huge delay that reduces your productivity.
Having a Slow Magento Administrative Backend can be a real waste of your time
Not only for you, but also your employees if you have them. Wouldn't it be great to be able to save categories and products with ease? If these issues sound familiar then Extendware's Improved Indexing is the extension for you!

Magento Improved Indexing Extension
More Great Features of Improved Indexing
Increase Responsiveness of Admin Backend
Saving products, categories, and more will be much faster, which will allow you to get more work done faster.
Optimize Catalog URL Rewrites 
We include optimizations that optimize the slowest index for large stores: catalog URL rewrites.
Save Time and Save Money
The faster you can get work done in the admin area means you will be able to do more work or have more free time. If you have employees, then the increased employee productivity will enable you to save employment costs.
View How Much Time You Have Saved
You can easily view how much time has been saved as a result of using Improved Indexing for Magento.
Re-Index Manually or On Schedule
Re-indexing events will be processed periodically with a cronjob or you can manually force the processing of events if desired.
Full Page Cache Support
If you are using Extendware's Full Page Cache, then deferred indexing is compatible out-of-the-box.
---
Quick Improved Indexing Extension Overview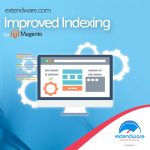 Increase the speed of your administrative backend. Do you have a slow admin backend when saving products, categories, etc? Improved Indexing will speed up your admin backend by making the saving of products, categories, etc more responsive. The end result is that you can get more work done in less time.
---