Small businesses are feeling the effect of major e-commerce retailers like Amazon. When consumers can one-stop shop from their smartphone or laptop, it's hard to convince them to visit your brick-and-mortar store…or even your website. Is this the end of small businesses, or is there a way to stay relevant without going broke?
Adapting to the Amazon Era
Small businesses that fail to adapt to the way today's buyers shop will feel the biggest pinch. As of 2019, online shopping accounts for about 12 percentof all retail sales. Even when shopping in-store, most consumers go online to find local businesses.
That means it's more important than ever for small businesses to have a web presence. Even if your business doesn't do e-commerce, a simple brochure sitegives customers a place to learn about services, locations, and contact information. If you are selling clothing, cosmetics, electronics, or another shippable product, a full-fledged e-commerce website can help you to grow your business's reach and sales.
Websites aren't effective when they're not pleasing to look at or easy to use. Nearly half of all consumers say they gauge the credibility of a website based on its visual design. A smooth user experience matters too, and broken links or confusing navigation are enough to turn shoppers away. Don't cheap out on this important business tool. Follow Upwork's advice and hire HTML developers that have the right front-end and HTML coding experience to help you create a dynamic and engaging website that meets all your needs and serves your customers well. These developers should be experienced in web fundamentals (e.g., CSS, JavaScript) and in UI/UX design concepts. 
Can Free Shipping Be Affordable?
Small businesses that do have an e-commerce component have to compete with Amazon's convenience, but they don't necessarily have to mirror it. Fast and free shipping is important to customers, but small businesses worry it will cut into their bottom line.
Small businesses can compensate for slower shipping by providing accurate shipping estimates at checkout and emailing customers with tracking details as soon as an order is shipped. A package might take three to five days to arrive instead of Amazon's one to two, but the prompt communication keeps customers in the loop and so they're never left wondering.
As for shipping costs, the best approach is building them into product costs. Customers may be reluctant to pay an extra $10 at checkout, but they're willing to spend 16 percent more on products at retailers who have superior customer experience. If you deliver in other ways, shoppers won't blink at your slightly higher prices.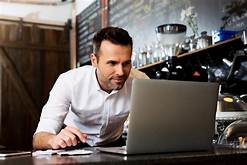 Delivering the Customer Experience
Businesses that want to charge a premium need to actually deliver on customer experience. Shoppers don't hesitate to shun a small business when they have subpar service — one in three say they'll stop doing business with a trusted brand after a single negative experience.
One service area where small businesses fall flat is efficiency. Consumers like shopping at small businesses for the personal touch, but they can get frustrated when they feel businesses don't value their time. Improving order fulfillment and shipping speeds solves that problem in e-commerce, but shoppers are still dissatisfied with long wait times in brick-and-mortar stores. As tempting as it is to minimize staffing costs, an expedient, knowledgeable staff is the foundation of in-store customer service. Businesses can also show they value shoppers' time by making returns easy and offering to ship items that are out-of-stock in-store.
Beyond speeding things up, small businesses can improve the experience through multi-channel customer service. Today's shoppers don't want to call for help. Instead, they prefer self-service tools like knowledge bases or social media. Hootsuite offers tips for keeping social media customer service manageable as a small business.
Your small business may never be a fraction of the size of Amazon, but that doesn't mean you have to admit defeat. Buyers are still shopping at small businesses, but they're growing choosier about where they spend their dollars. By delivering great service online and off, you can ensure your business stays at the top of shoppers' lists.