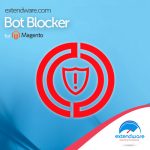 Extendware's Magento Anti-Spam Captcha is important for every store because spam reduces productivity, wastes server resources, and can make your site look unprofessional (in the case of spam reviews that advertise other Web sites). Magento Anti-spam Captcha fixes this by putting a CAPTCHA on your most important forms.
The only problem is that CAPTCHAs can annoy users and discourage your customers from performing certain activities. We have worked to solve this by implementing three new features in Spam and Bot Protection:
OpenCaptcha Support – Previously, only Google reCAPTCHA was supported, which some users found too difficult. Now we support OpenCaptcha, which is much easy for users to solve while still protecting from bots (reCAPTCHA is still supported for those that want it).
Unlocked Actions – After solving 1 CAPTCHA, you may configure for the next X actions to NOT require a CAPTCHA. This means that if a user writes a review on your Web site and solves a CAPTCHA, this will prove they are human. They will not be asked to solve another CAPTCHA until they perform X actions (X more reviews, X more contacts, etc).
Only Ask Guests – This feature has always existed, but has been under utilized. With this option only customers who are not logged in will be asked to solve a CAPTCHA. Logged in customers will not be asked.
With these changes we are confident that your store will find a better balance between protection from spammers and bots and between ensuring the user experience of your live, human customers is as good as possible.
Why Not Follow and Like Us?