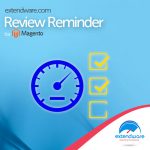 Getting your products reviewed by real customers can boost sales significantly. Unfortunately, many customers forget to write reviews. Magento Review Reminder will help solve this issue for you by sending emails to customers after they have placed an order and reminding them to write a review.
The extension is very simple to use. You can send a series of reminders to customers in order to remind them to review and you can even include a coupon in the email.
---
Quick Overview
Review Reminder allows you to remind your customers to leave a review about the products in their order. You can send an unlimited number of follow-up emails and even attach a coupon to the follow-up to encourage reviews.
---
Why Not Follow and Like Us?